Most health and safety professionals involved in forklift operations will agree that operator training certificates are important. Not least because they help demonstrate compliance with the HSE Approved Code of Practice for Rider Operated Lift Trucks (L117).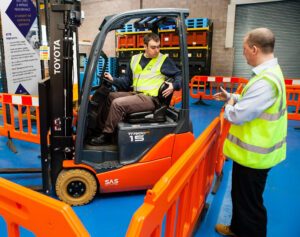 However, there is a common myth that accredited forklift training certificates have to be transferable. There is also a misconception that all accredited forklift training must go onto a publicly available database.
Turnover in lift truck operator roles is high. So, these misunderstandings have led some businesses to provide their own 'in-house' operator certificates. Some managers are reluctant to invest in accredited operator training, only for the lift truck operators to quickly move on to another employer once they have their certificate.
Understandably, they are protecting their training investment. But, if an incident occurs, this can leave employers vulnerable. Where certificates are not backed by RTITB Accreditation, businesses cannot prove independent verification of their operator training. As such, they cannot prove that the training delivered has met the HSE Code of Practice requirements.
Accreditation is not mandatory. But this independent verification of operator training content and compliance gives regulators confidence. It is a tried and tested approach used widely in the training and education sector. Both for verifying training compliance and measuring learning outcomes.
What businesses may not realise is that RTITB accredited operator certificates can be 'non-transferable.' These certificates are clearly marked for use only at a specific company. Or even for a single business site.
This training does not appear on the public RTITB operator database (NORS). The operator can't get a copy certificate from RTITB without consent from the employer who funded the training.
However, these certificates still undergo the same robust quality assurance processes. This gives employers confidence. The certificates demonstrate that an operator has passed the Basic Operating Skills Test. They also provide independent proof of compliant operator training.
RTITB accredited partners delivering operator training to their own employees receive unlimited verification and certification. There are no extra charges for issuing operator training certificates – no matter how many people you train. This applies to non-transferable certificates too.
Accredited partners submit verifications digitally via the MyRTITB TrainingFriend App. It is fast and simple. Uploads are completed with a single button click, making administration and compliance easy.
For added speed and convenience, RTITB issues electronic operator certificates within four hours. They are also co-branded with the logo of the company that has invested in the training.
Of course, where businesses have a good lift truck operator retention rate, national 'transferable' certificates are still an option. Operators retain their qualification when they move roles. Their operator registration will be available to view on the public RTITB database. This means their qualification can be checked by their next employer or recruitment agency.
Contact RTITB to learn more about the range of certificate options for RTITB accredited partners, or visit the RTITB website.